---
---
---
---
Become a member of the
Middlesex Canal Association
Reardon Room Rental
For the past ten years a group of dedicated volunteers has operated the Middlesex Canal Museum and Visitor Center at the Faulkner Mill in North Billerica. We have good facilities for rental in a charming Museum. Should you plan a function, we hope that you will consider us. The reasonable charge of $200 covers the room and a committee member who will be present throughout to assist you. For more information phone 978-670-2740, leave a message and someone will return your call.
The Middlesex Canal
Museum-Visitor Center
is open noon to 4pm every Saturday and Sunday throughout the year, except holidays.
See the Calendar for exact dates.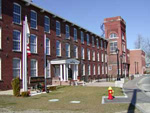 The Middlesex Canal
Museum - Visitors Center
is located at the Faulkner Mills,
71 Faulkner St., No. Billerica MA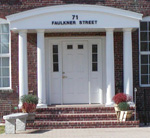 For more information on the Museum, call 978-670-2740.
Volunteers for the museum are being recruited. If interested, e-mail
museum2014 AT middlesexcanal.org (Will Barker)
---
Directions to the
Museum/Visitors Center:
From Route 3 North or South:
Take Route 3 North or South to Exit 28 "Treble Cove Road, North Billerica, Carlisle". At the end of the ramp, turn onto Treble Cove Road toward North Billerica. At about 3/4 mile, bear left at a fork. After another 3/4 mile you'll come to a traffic light; this is Route 3A; go straight. Go about 1/4 mile to a 3-way fork; take the middle road, which will put St. Andrew's Church on your left. Go about 1/4 mile; bear right, then turn right onto Faulkner Street. Go about 1/4 mile; the Museum is on your left and you can park across the street on your right, just beyond the falls.
From Route 495 North or South:
Take the Woburn Street N. Billerica/Lowell Exit. From the North take a left, from the South a right onto Woburn Street, which becomes Billerica Avenue. At the RR Station parking lot, take a right; Go 1/4 mile and the Faulkner Mill is on the right. The parking lot is on the left.
Directions by train:
The Lowell Commuter Line runs between Boston's North Station and Lowell's Gallagher Terminal. Get off at the North Billerica station, which is one stop south of Lowell. From the station side of the tracks, the Museum is a 3-minute walk down Faulkner Street on the right side.
Telephone: 1-978-670-2740
---
Calendar of meetings of the Middlesex Canal Association and Museum volunteering
Officers and Directors of the Middlesex Canal Association
By-Laws of the Middlesex Canal Association
Presidents of the
Middlesex Canal Association
Arthur Louis Eno
1962 - 1972
Douglas P. Adams
1972 - 1975
Wilbar M. Hoxie
1975 - 1977
Frances B. VerPlanck
1977 - 1981
H. Lawrence Henchey, Jr.
1981 - 1983
Nolan T. Jones
1983 - 1985
Paul Pearsall
1985 - 1987
David A. Fitch
1987 - 1990
Burt VerPlanck
1990 - 1994
Nolan T. Jones
1994 - 2010
William E. Gerber, Jr.
2010 - 2011
J. Jeremiah Breen
2011 -
---
The President of the Middlesex Canal Association is J. Jeremiah Breen.
The Vice President of the Middlesex Canal Association is Traci Jansen.
For information about publications available through the Middlesex Canal Association, contact Betty Bigwood.
For information on membership in the Middlesex Canal Association, contact Neil Devins.
For information about the Middlesex Canal Commission and its efforts to preserve and restore what remains of the Middlesex Canal, contact Tom Raphael.
For information about upcoming walks and tours of the Middlesex Canal, contact Roger Hagopian.
Send comments, suggestions, photos, and any other interesting information about the Middlesex Canal to webmaster Robert Winters at robert@middlesexcanal.org.
Note: E-mail sent to several of the above addresses will be forwarded by the webmaster to the appropriate person after being screened for SPAM and viruses.
---
News Item:
Colonel Loammi Baldwin gets his sword
(YouTube video)
---
National Canal Museum
(in Easton, PA)
Calendar of Middlesex Canal Association Events and Related Events
The Middlesex Canal Museum and Visitors' Center is open every Saturday and Sunday, noon-4, except holidays.
First Wednesday - MCA Board of Directors' Meetings - The Board meets the first Wednesday of every month (except July and August), at the Museum, from 3:30 to 5:30pm. Members and the public are invited to attend.
---
Sun, Apr 12, 2015: Middlesex Canal Association's Spring bicycle tour. Meet 9:30am at North Station (commuter rail) and take our bicycles on the 10am train to Lowell. Riders meeting the group at Lowell meet at the train station at 10:40am. This year an early group will take the 8:00am train from North Station to allow more time in Lowell and breakfast at the historic Owl Diner (www.owldiner.com, aka the Four Sisters).
Route visits the Pawtucket and other Lowell canals, the river walk, Francis Gate, and Middlesex Canal remnants in Chelmsford. Lunch at Route 3A mini-mall in Billerica. Quick visit to Canal Museum, then on to Boston. A long day of exploration (35 miles end-to-end) but sunset is late.
Riders can board northbound trains at other stations or catch southbound trains at 1:07pm or 3:14pm to return to Boston early. Complete Lowell line schedules can be downloaded at http://www.keoliscs.com. Participants responsible for one-way train fare [$9.25 from Boston to Lowell]. For changes or updates, see http://middlesexcanal.org. Leaders Bill Kuttner (617-241-9383) & Dick Bauer (857-540-6293).
---
Sun, April 26, 2015. Joint MCA-AMC Spring Middlesex Canal Walk. Meet at 1:30pm at the Middlesex Canal Museum and Visitor Center in the Faulkner Mill in North Billerica. The walk will be for 2-3 hours, rain or shine, over generally level wooded terrain and streets. The route follows the canal for a round trip of under 3 miles south of the Concord River. Sites to be visited include: two guard locks; an anchor stone and the 'peninsula' at the opposite ends of the floating bridge that once carried the towpath across the Concord; the 1825 iron bolt pond-level reference; the "deep cut"; a smallpox memorial marker; stretches of canal some of which are still watered; and possibly the impending photovoltaic facility on High St. The Museum and bookstore will be open from 12:00pm-4:00pm. Phone 978-670-2740. L Robert Winters (617-661-9230; robert@middlesexcanal.org), CL Roger Hagopian (781-861-7868 to 10pm), CL Marlies Henderson.
---
Sun, May 3, 2015: Middlesex Canal Association Annual Meeting in the museum, beginning at 1:00pm. Our speaker, Marcis Kempe, has as his topic, "Boston's Water Supply and the Middlesex Canal", based on Caleb Eddy's Historical Sketch of the Middlesex Canal, 1843, which can be read at http://tinyurl.com/eddy1843. Refreshments will be served following.
Other Canal-Related Events
Walks along the Delaware & Raritan Canal in New Jersey. Various weekends. These walks are sponsored by the D&R Canal Watch. For additional information contact Bob Barth at 201-401-3121 or bbarth@att.net.
Sat, February 28 – 10:00am. Hike 5.3 miles from Fireman's Eddy to Prallsville Mill (the meeting place) or choose the 2.6-mile walk to the Holcombe-Jimison Farm. The tour will include the historic 8 remnants of the feeder canal outlet lock to the river, other historic canal structures and expansive views across river. Leader: Pamela V'Combe, 609-635-2783.
Sat, March 14 – 10:00am. Hike 5.3 miles from Fireman's Eddy to Washington Crossing (the meeting place) or choose the 4.1-mile walk to Church Road in Titusville. Leader: Pamela V'Combe, 609-635-2783.
Sat, March 28 – D&R Canal Watch 5K Fun Run, Washington Crossing State Park. For more details, visit our website, www.canalwatch.org.
Sat, April 18 — 10:00am. Hike 6.2 miles from Washington Crossing to Ellarslie, the Trenton City Museum in Cadwalader Park (the meeting place) or choose the 2.4-mile walk to Scudder's Falls. The tour will pass by Wilburtha and Upper Ferry Road and will include historic canal structures: several stop gates, a spillway, an aqueduct, and other historic features. Leader: Pamela V'Combe, 609-635-2783.
Sun, April 19 – 1:00-3:00pm. Explore the Abbott Marshlands and learn about Charles C. Abbott, naturalist, doctor, and archeologist. 157 Westcott Avenue, Hamilton. $5 per person. Group is limited to 20 people. Register by contacting Bob Barth, 201-401-3121; bbarth@att.net.
Sat, May 2 – 10:00am. Hike 4.5 miles from Whitehead Road to Ellarslie, the Trenton City Museum in Cadwalader Park (the meeting place) or choose the 2.5-mile walk to the Trenton Battle Monument. Questions? Contact Bob Barth at 201-401-3121 or bbarth@att.net.
Sat, Mar 7th, 2015, Society for Industrial Archaeology, 28th Annual New England IA Conference, Fire Alarm and Telegraph Building, 230 Park Avenue, Worcester, MA (new conference location). More information is available on the chapter web site: http://nec-sia.org.
Sat, Mar 7th, 2015, CSNY Winter Symposium, Rochester, NY — Canal Society of New York State Winter Symposium and Meeting. Monroe 9 Community College, Warshoff Conference Center (Rochester, NY). 8:00 to 4:00. $50 preregistered, $60 at the door. Includes lunch and snacks.
Eight high quality presentations are planned. The central theme will be an update on the construction and planned opening of the Erie Canal Heritage Park at Port Byron given by CSNYS, NYS Thruway and Canal Corporation representatives. Bookending around this presentation will be the story of two sets of five locks, the 19th-century Flight of Five under restoration in Lockport, NY and the 20th-century Waterford Flight (also five locks) celebrating its 100th birthday.
Other topics to be covered are: Erie Canal Draftsman, David Vaughn; Lake Biwa Canal, Japan; Chittenango Canal Boat Museum; Chemung Canal. CSNYS members will receive a preregistration form. Others may preregister by sending a check for $50 made out to Canal Society of NYS to Dave Kipp, 61 Thistledown Drive, Rochester, NY 14617. For more information, visit www.newyorkcanals.org.
Weekend, April 10-12, 2015: Canal Society of Indiana. "Fruhling Kanal Ausflug mit Freuden" the Spring Tour of the Canal Society of Indiana will have a German theme as it explores the Wabash and Erie Canal in Jasper and Dubois Counties. The tour will be based in Evansville, Indiana, see <http://www.canadiancanalsociety.org/documents/2015-04-csi-springtour. pdf> for details.
Weekend, Apr 24-26, 2015. Joint Pennsylvania and Ohio Canal Societies' tour of the Beaver Division of the Pennsylvania Canal. The annual meeting of the American Canal Society will be held in conjunction with this event. The day long tour will run along the Beaver and Shenango Rivers between Rochester, PA and Sharpsville, PA. HQ: Hermitage Quality Inn (3200 S. Hermitage Road, West Middlesex, PA 16159). Steve Fritz of the U.S. Army Corps of Engineers will speak on Friday evening, April 24th about planning navigation improvements on the upper Ohio and lower Monongahela rivers. Saturday speaker, John Kokoski of the Greenville Canal Museum. For more information contact Dave Wright <wereallwright@gmail.com>. Register through pacanalsociety.org.
Weekend, Apr 28-30, 2015. Canal Society of Ohio golf cart tour of Stark County. Jim Guest, jeguest@prodigy.net.
Weekend, Jun 5-6, 2015. The New York and Canadian Canal Societies tour will examine the pre-Seaway canals along the St. Lawrence River and will be based in Cornwall, Ontario.
Weekend, Sept 7-10, 2015. World Canals Conference, Ghent, Belgium. Conference will include boat trips on Ghent's inland waterways and the Port of Ghent, and visits to the project of Waterways & Seacanal and Flanders Field. www.wccghent2015.com
Weekend, Oct 16-18, 2015. Pennsylvania Canal Society tour of the Northern Schuylkill Navigation.
Fall 2015 (date to be determined): CSNY, Genesee Valley Canal (section to be defined), Mid-October.
Spring 2016 (date to be determined) CSNY, Buffalo, Tonawandas, & Lockport
Week of Sept 18-21, 2016, World Canals Conference 2016, Inverness, Scotland
Week of Sept 24-28, 2017 - World Canals Conference 2017 will be based in Syracuse, New York. 2017 will mark the 200th Anniversary of the start of construction on the Erie Canal.
Attorney Arthur L. Eno, Jr. 1924 - 2014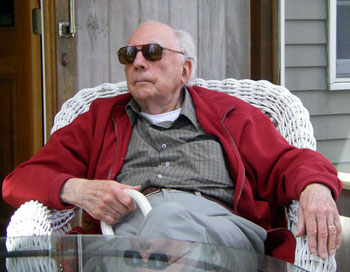 Attorney Arthur L. Eno, Jr. was born in Lowell April 27, 1924 and died August 6, 2014, a stone's throw from where he grew up overlooking the Merrimack River in the city he loved.
As the firstborn son of Arthur L. and Claire (Lamoureux) Eno, Sr. his first language was French. He attended St. Joseph Grammar School and Keith Academy in Lowell, and his childhood buddy was Jack Kerouac, another of Lowell's Franco-American sons.
While Jack's destiny was to leave Lowell, Louis' destiny was to stay. Except for college and the war, he never lived more than 20 minutes from the city. Gifted with a strong intellect and an indomitable work ethic, he was accepted into Harvard at age 14. At the suggestion he prepare a bit more socially, he took an additional year of studies at Phillips Academy Andover.
Never one for dawdling, he completed his undergraduate Classics degree in three years; served in the Signal Section of the Army in Morocco, Italy, France and Germany for three years (he was in Paris at the end of the war); spent a year studying at the Sorbonne and returned to enter Harvard Law School, which he completed in just over two years.
After admission to the Massachusetts Bar in 1948, he became an Assistant Professor of Law at Northeastern University at age 24, just as he was opening his own private law practice in Lowell. Then, for the next 53 years, he commuted every day to the same neighborhood, many of them in his bright orange VW bug. In 1994, he created a firm, Eno Boulay and Martin (now Eno Martin Donahue) and retired in 2001.
In 1957, friends masterminded a fateful meeting with Ann Fitzpatrick of New Rochelle, New York. He called her at her New York City office to ask if she could arrange theater tickets for his girlfriend and him. This interesting tactic somehow worked and he successfully wooed Ann to Massachusetts. While the couple couldn't have been more different in temperament or outlook, they were married 56 years and raised three children, John, Madeleine, and Will.
One of their proudest achievements was to move a 300-year-old house from Amesbury to Carlisle.. Louis heard that a beautiful old home was up for auction due to the construction of Route 495. He carefully tucked two sealed bids, one low and one high, into his jacket pocket. When it came time to present bids, he forgot which was which, but still managed to win the house. He & Ann dismantled and moved it-board by board, brick by brick-and painstakingly recreated it on acreage in Carlisle.
Civic involvement was important to him, and he served on numerous professional organizations and political groups: the Lowell School Committee (1951-1955), the Lowell Historic Board (1984-1993), and the Middlesex Canal Commission. He was a Trustee of the Central Savings Bank, a Director of the Jeanne d'Arc Credit Union (1972-1992), President of the Lowell Humane Society, President of the Middlesex Canal Association (1962-1972) and President of the Mass. Conveyancers Association (1982-1984).
While law was his vocation, the history of Lowell was his passion. He edited Cotton Was King, a compilation of essays about Industrial Revolution-era Lowell, published in 1976. He translated Immigrant Odyssey from French to English. Antiquarian books, bottles, and artwork all with the common theme of Lowell lined the bookshelves of the living room, and his office was a veritable museum to the city.
His numerous awards include Honorary Oblate of Mary Immaculate (1979), the Richard Johnson Award (Mass. Conveyancers Association), Lawyer of the Year (Greater Lowell Bar Association, 1991) and Franco-American of the Year (2000).
He was co-author of Massachusetts Real Estate (West Group) and editor of annual supplements of the publication for dozens of years. He edited the Massachusetts Real Estate Sourcebook (published by Mass. Continuing Legal Education).
Deeply religious, Louis rarely missed attending Mass, even while traveling. In his rare spare time, he took the family in the station wagon to explore the canals and locks of the eastern seaboard.
Until he lost his sight several years ago, reading was his ultimate pleasure. All he needed for a happy vacation at the family cabin in Vermont was his tall glass of ice tea and a tall stack of library books. He read quickly and remembered details. His 10-year-old daughter once asked him to read Charlotte's Web so she could discuss it with him. He sat on the porch and read it in a single sitting while she watched. A lifetime classics student, he gave his young children Peanuts books in Latin for Christmas.
He loved lobster, croissants, Paris, Quebec, speaking French, reading the Greek philosophers, sci-fi movies, Bennie Hill, large dogs, and his family. There was very little about the world, history, or politics that he did not know. For the past several decades, he met his friends, Lenny and Jay for lunch, jokes and political talk just about every Saturday. His baby granddaughter was making her entrance into the world at the very moment he departed.
Surviving him in addition to his beloved wife, Ann, are his children John (Jeanne Palanza) of North Andover, Madeleine (John Roper) of Sandy, Oregon, Will (Maria Dizzia) of Brooklyn, NY, and brand-new granddaughter, Albertine Eno. His brother, Paul A. (Janice) Eno of Taunton, MA, and dozens of nephews, nieces, grandnephews and grandnieces, each of whom he adored. He was predeceased by his beloved sister, Jacqueline.
This obituary was published in the Lowell Sun August 9-10, 2014.
---
Restoration of Canal Museum seeks to preserve a part of history (June 14, 2014, Billerica Minuteman)
---
Recent Events
Sun, Oct 5, 2014. Bicycle Tour of the Historic Middlesex Canal. MassBike, the Somerville Historic Preservation Commission, the Middlesex Canal Commission and the Middlesex Canal Association will sponsor the 12th annual bicycle tour of the canal which was the "big dig" of late 18th century Massachusetts. Completed in 1803 after 10 years of construction, the Canal connected the Merrimack River, west of what is now Lowell, with the Charles River at Sullivan Square in Charlestown. The Canal provided passenger and freight service for 50 years. It pioneered many innovations and in many ways served as a model for later canals, notably including the Erie Canal.
We will meet at 9:00am by the Canal marker at the Sullivan Square MBTA station. From there we will ride about 28 miles to the Mill Village and Canal Museum by the Concord River Millpond in North Billerica. We'll stop for lunch in Woburn, so please bring a lunch. We should get to North Billerica in time for anyone who wants to catch the 3:07pm train back to Boston. The ride will then follow the northern section of the Canal another 10 miles to Lowell in time to catch the 5:00pm train back from there.

The ride will be an easy one for most cyclists; the route is pretty flat and we will average 5 miles per hour. Along the way we will stop at: several canal remnants and restored sections; the Mansion of Loammi Baldwin, chief engineer for the Canal (for whom the Baldwin apple is named, discovered during an early canal survey); the two remaining aqueducts (which carried the Canal over rivers and brooks); and the northern end of the floating towpath that enabled horses to tow boats across the Concord River.

The ride will be led by Dick Bauer of the Somerville Historic Preservation Commission and the Middlesex Canal Commission, Robert Winters of the Middlesex Canal Association, and Bill Kuttner of the Shirley-Eustis House and the Middlesex Canal Commission. Steady rain cancels.

For more information, contact Dick at dick.bauer@alum.mit.edu (617-628-6320); Robert at robert@middlesexcanal.org; or Bill at bkuttner@ctps.org (617-973-7132). For more information about the Middlesex Canal go to: http://www.middlesexcanal.org, &/or http://www.massbike.org/resources/rides.htm.
Sun, Oct 19, 2014: Joint Middlesex Canal Association - Appalachian Mountain Club Fall Walk. This walk is jointly listed as a Local Walk of the Boston Chapter of the Appalachian Mountain Club (AMC). "Show and Go"; meet at 1:30pm at the Middlesex Canal Museum and Visitor Center at the Faulkner Mill at 71 Faulkner Street in North Billerica. The Museum and Visitor Center, including the bookstore, will open at 12 noon. The 2-2½ hour walk will cover part of the Merrimack branch of the canal in Billerica and Chelmsford, about 3 to 4 miles over generally level wooded terrain and streets. Sites to visit en route will include a guard lock, the anchor stone for the floating towpath that bridged the Concord River, and many stretches of watered canal. For directions to the museum, Middlesex Canal signs point the way, or see the third paragraph under this "calendar of events" section, above. Information: contact Robert Winters (robert@middlesexcanal.org) or Marlies Henderson (978-663-3345).
---
Campaign Launched
The Middlesex Canal Association has accepted the old Talbot cloth warehouse to be used as a future new Canal Museum. The warehouse is adjacent to the site where construction of the canal began. The deed was signed on February 5 and recorded on March 6, 2014.
As of June 1, 2014 the Middlesex Canal Association launched its Fundraising Campaign to raise $100,000 to hire an Architect/Structural Engineer. The initial appeal will go out to businesses. There is an urgent need to replace the roof. The expected total cost of the adaptive use of the building for our purposes is expected to cost less than half a million dollars. The following two page letter is being sent as we speak. Hopefully, our civic minded community will rise to the occasion.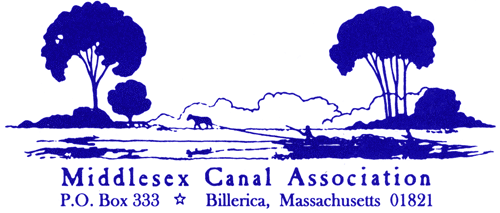 June 2014

Dear Community Members,

The Middlesex Canal Association is excited to announce a major step towards preserving the history of the Middlesex Canal. We have recently been granted the deed to an 1880's warehouse which is on the banks of the Summit Mill Pond, aside the canal where the ceremonial ground breaking took place 220 years ago and adjacent to the future Middlesex Canal Heritage Park in North Billerica. This is a significant opportunity to build a New Canal Museum and we need your help.

The Middlesex Canal was one of the first major transportation canals in the United States and was largely responsible for the initial growth of Boston as a world city. This "Incredible Ditch" served as a commercial network for the towns of Lowell, Chelmsford, Billerica, Wilmington, Woburn, Winchester, Medford, Somerville and Charlestown. Secretary of the Treasury, Albert Gallatin declared in 1808 that the canal was "the greatest work of its kind in the United States to date."

The Middlesex Canal Association strives to acquire, restore, and preserve all extant remains of the old Middlesex Canal. Our programs include teacher and student education, maintaining a historical archive and web site, thrice-yearly lectures, publication of our journal Towpath Topics, bicycle tours and guided walks along the canal. The Association is also proud to have maintained an all volunteer run Museum and Visitor Center for the past thirteen years.

We are making an appeal to all in our community to help fund this project. In the first phase, we want to hire an architect, develop a plan of approach, construct a bridge to access the building, and rebuild the roof. The second phase will bring to completion a new Canal Museum and Visitor Center for the benefit of present and all future generations.

We have chosen your name with special care. We want to start work this summer and funds are urgently needed. Please contact us at fundraising@middlesexcanal.org or 978-670-2740 for more information about this amazing project.

Sincerely,


MCA President

---
FUTURE MIDDLESEX CANAL MUSEUM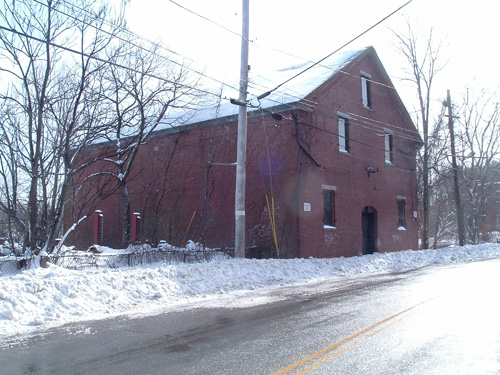 2 Old Elm Street
Billerica, Massachusetts 01862
Donation levels of $10,000 or more earns a Platinum Status, $5,000 or more earns a Gold Status, $2,500 or more earns a Silver Status, and $500 or more earns a Bronze Status. Contributing businesses will be featured on a permanent display in the museum, on our web site and in our literature. This will qualify for 501 (c) (3) tax status.
Name, Address and phone number of donor: [Click here for mailable form]

……………………………………………………..
Please endorse checks to:
The Middlesex Canal Association/New Museum and send to:
Howard B. Winkler, Treasurer MCA
1010 Waltham Street, Apt 205
Lexington, Massachusetts 02421
---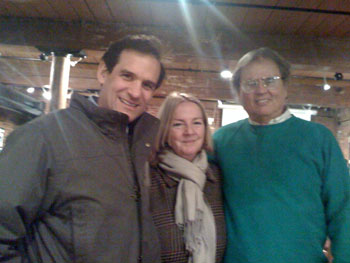 Standing Room Only: President J. Jeremiah Breen officiated
over the 2014 Winter Meeting of the Middlesex Canal Association.
Pat Henry spoke of Billerica's Utopia - a planned residential area
near our current museum. It was well attended.
In photo are Josiah Rich,MD,MPH (husband). Pat Henry (speaker) and J. Breen.
---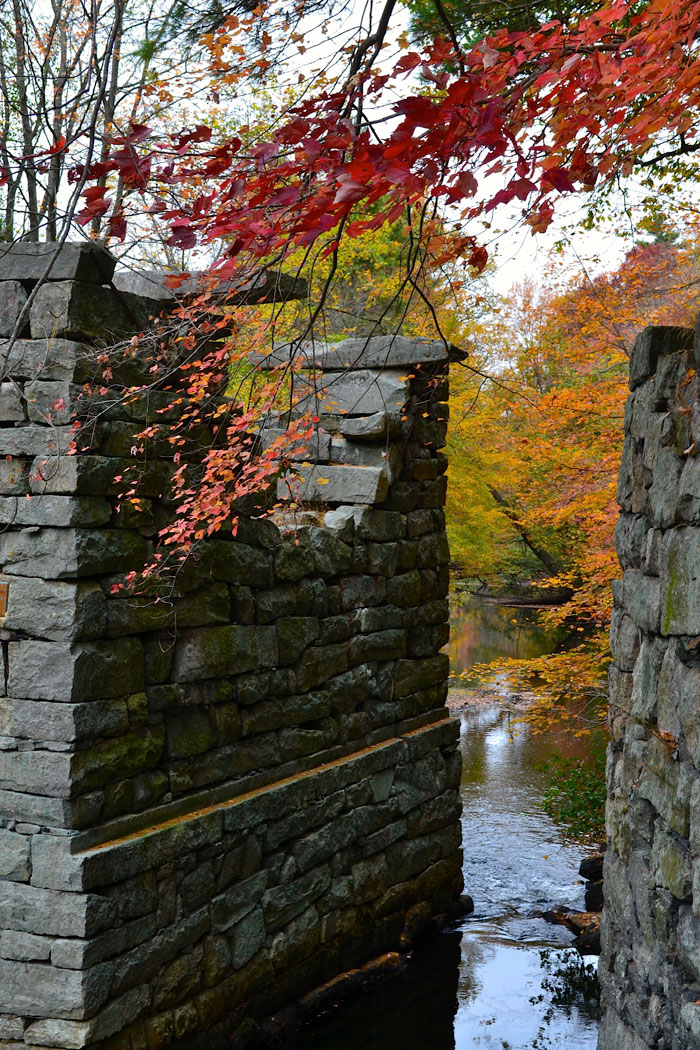 Remains of the Shawsheen Aqueduct, N. Billerica - October 2013
(Photo by Cathy Norton)
---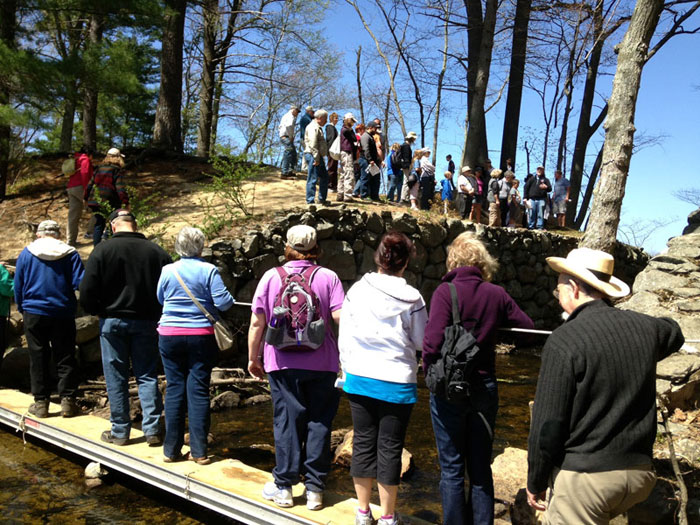 The Spring Walk on Sunday, May 5, 2013 drew a crowd of more than 50 people.
At the Maple Meadow Brook, participants crossed the "Bigwood Bridge" built for the day.
---

Why is Dick Bauer smiling? Because 34 people joined him on
the Spring Bike Ride along the Canal route (Apr 7, 2013).

Traci, Debbie, and Bill are deep in thought writing up the
messages for QR codes to be attached to each exhibit.
Who says we aren't keeping up with the latest?
November 4, 2012 - The Middlesex Canal Association celebrated its fiftieth anniversary with a van tour of the canal, "the greatest work of the kind that has been completed in the United States." So wrote Albert Gallatin in 1808. The tour included a dinner in the Baldwin Mansion, home of the canal builder, and birthday cake at the canal museum.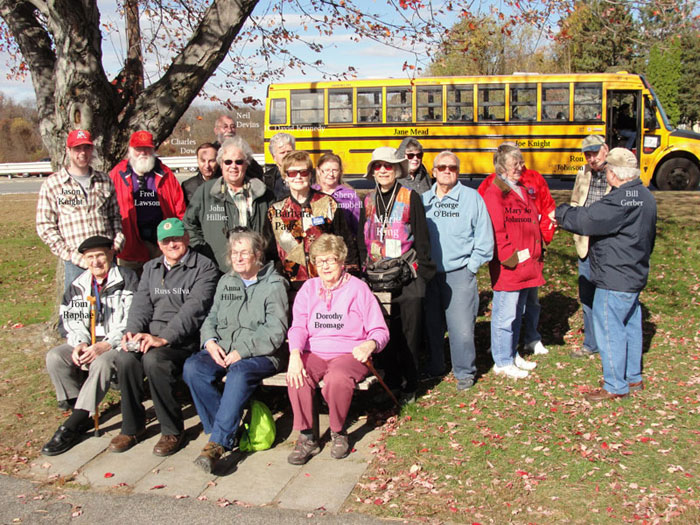 Middlesex Canal Association 50th Anniversary Celebrants
---
Fall Walk, Oct 21, 2012 - Pictures by Russ Silva
Middlesex Canal Commission Receives Grant for Walking & Biking Trails along Canal in Woburn

OneWorld Boston, a Cummings Foundation affiliate, has awarded the Middlesex Canal Commission a $100,000 grant to support construction of walking and bike paths along the Middlesex Canal in Woburn from Alfred Street to School Street. [Middlesex Canal Commission]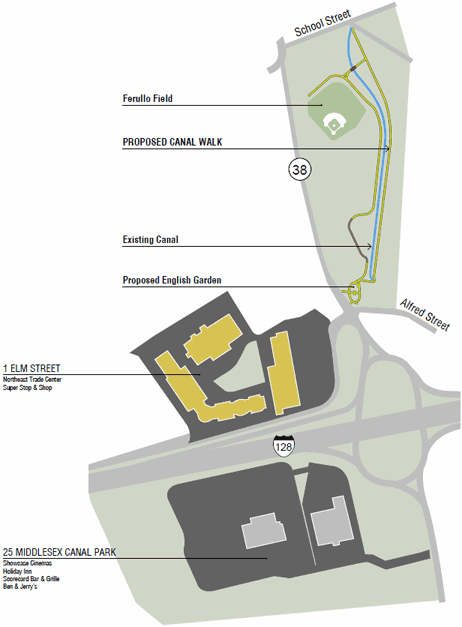 Heritage Corridor Map Book (4.6MB, 41 page PDF)
[Note: Use landscape format for printing pages]
---
The MCA-AMC Fall Walk took place on Sunday, October 17, 2010 along a scenic section of the Middlesex Canal from the Wilmington Town Park to Patch's Pond. Photos from the 2010 Fall Walk
---
Middlesex Canal Prism
75 ft. Buffer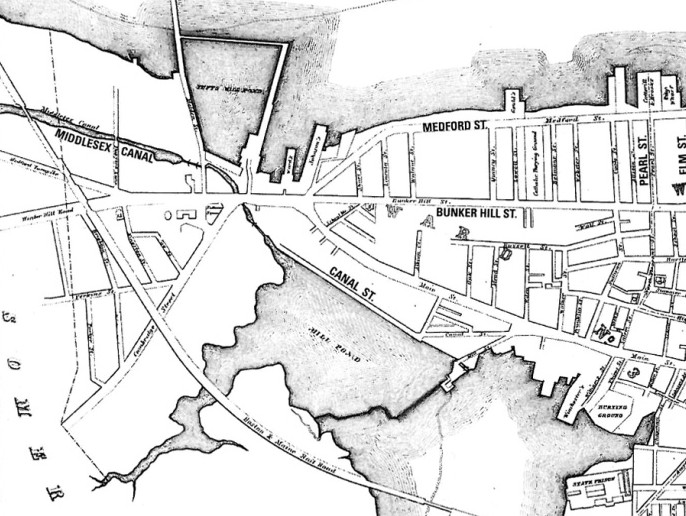 Southern terminus of the Middlesex Canal (Sullivan Square, Charlestown)
[Canal Street is now Rutherford Street]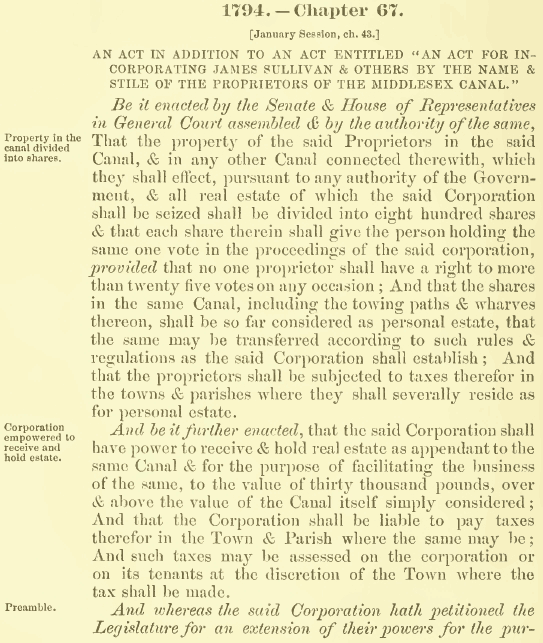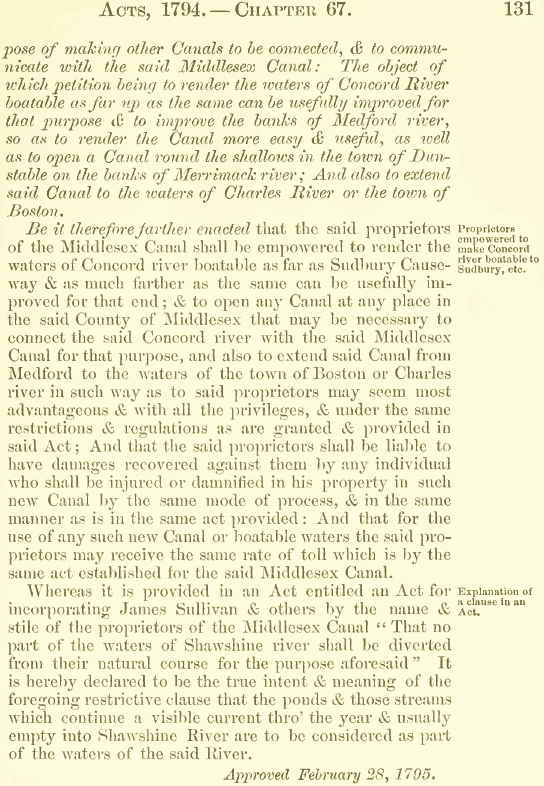 1794. - Chap. 0067
[January Session, ch. 43]
AN ACT IN ADDITION TO AN ACT ENTITLED "AN ACT FOR INCORPORATING JAMES SULLIVAN & OTHERS BY THE NAME & STILE OF THE PROPRIETORS OF THE MIDDLESEX CANAL."
Be it enacted by the Senate & House of Representatives in General Court assembled & by the authority of the same, That the property of the said Proprietors in the said Canal, & in any other Canal connected therewith, which they shall effect, pursuant to any authority of the Government, & all real estate of which the said Corporation shall be seized shall be divided into eight hundred shares & that each share therein shall give the person holding the same one vote in the proceedings of the said corporation, provided that no one proprietor shall have a right to more than twenty five votes on any occasion; And that the shares in the same Canal, including the towing paths & wharves thereon, shall be so far considered as personal estate, that the same may be transferred according to such rules & regulations as the said Corporation shall establish; And that the proprietors shall be subjected to taxes therefor in the towns & parishes where they shall severally reside as for personal estate.
And be it further enacted, that the said Corporation shall have power to receive & hold real estate as appendant to the same Canal & for the purpose of facilitating the business of the same, to the value of thirty thousand pounds, over & above the value of the Canal itself simply considered; And that the Corporation shall be liable to pay taxes therefor in the Town & Parish where the same may be; And such taxes may be assessed on the corporation or on its tenants at the discretion of the Town where the tax shall be made.
And whereas the said Corporation hath petitioned the Legislature for an extension of their powers for the purpose of making other Canals to be connected, & to communicate with the said Middlesex Canal: The object of which petition being to render the waters of Concord River boatable as far up as the same can be usefully improved for that purpose & to improve the banks of Medford river, so as to render the Canal more easy & useful, as well as to open a Canal round the shallows in the town of Dunstable on the banks of Merrimack river; And also to extend said Canal to the waters of Charles River or the town of Boston.
Be it therefore farther enacted that the said proprietors of the Middlesex Canal shall be empowered to render the waters of Concord river boatable as far as Sudbury Causeway & as much farther as the same can be usefully improved for that end; & to open any Canal at any place in the said County of Middlesex that may be necessary to connect the said Concord river with the said Middlesex Canal for that purpose, and also to extend said Canal from Medford to the waters of the town of Boston or Charles river in such way as to said proprietors may seem most advantageous & with all the privileges, & under the same restrictions & regulations as are granted & provided in said Act; And that the said proprietors shall be liable to have damages recovered against them by any individual who shall be injured or damnified in his property in such new Canal by the same mode of process, & in the same manner as is in the same act provided: And that for the use of any such new Canal or boatable waters the said proprietors may receive the same rate of toll which is by the same act established for the said Middlesex Canal.
"Whereas it is provided in an Act entitled an Act for incorporating James Sullivan & others by the name & stile of the proprietors of the Middlesex Canal "That no part of the waters of Shawshine river shall be diverted from their natural course for the purpose aforesaid" It is hereby declared to be the true intent & meaning of the foregoing restrictive clause that the ponds & those streams which continue a visible current thro' the year & usually empty into Shawshine River are to be considered as part of the waters of the said River.
Approved February 28, 1795.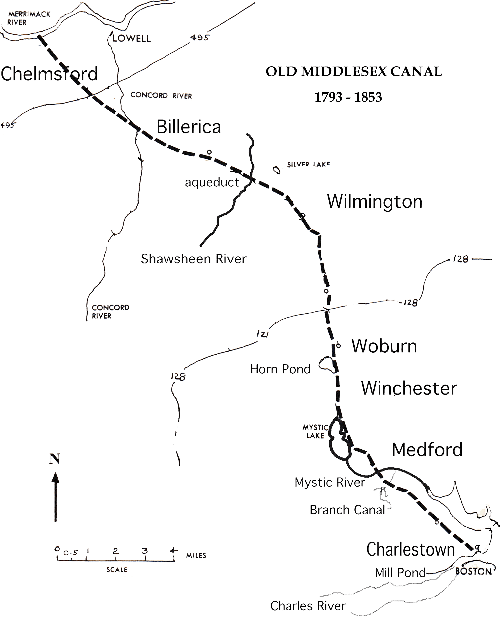 ---

1890 photo of the remains of the Shawsheen Aqueduct of the Middlesex Canal (from a glass slide)


Towpath Topics
(newsletter of the Middlesex Canal Association)

Communication from Robert Fulton
(from the September 1994 and March 2000 issues of Towpath Topics)

The Canal Boat by Nathaniel Hawthorne
(Hawthorne's account of a trip on the Erie Canal, originally published in the December 1835 issue of New-England Magazine, as transcribed by the University of Rochester.)

The First Issue:
Canal News - October 1963 (vol. 1, no. 1)
(added May 12, 2003)

The Middlesex Canal Association Annual Meeting on May 4, 2003 featured guest speaker J.R. Greene, historian and author of many books on the history of the Quabbin Reservoir and the towns that were eradicated to create the reservoir. If you are interested in the books of J.R. Greene, a listing and contact information is provided here: [Books by J.R. Greene]
"To step down from some busy thoroughfare onto the quiet towpath of a canal....is to step backward a hundred years or more and to see things in a different, and perhaps more balanced perspective." Tom Rolt, British author

---

Middlesex Canal Corporation Records
Mogan Center Archives
at UMass Lowell

The first issue of the Middlesex Canal Association newsletter was published in October 1963. Originally named "Canal News", the first issue featured a contest to name the newsletter. A year later, the newsletter was renamed "Towpath Topics".



---
---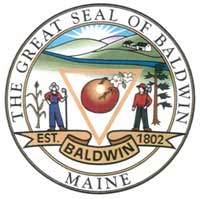 BICENTENNIAL CELEBRATION OF
BALDWIN, MAINE
June 23, 2002
On June 22-23, 2002, six members of the Middlesex Canal Association made the 115-mile journey to Baldwin, Maine to join the festivities as they celebrated their 200th anniversary. Baldwin is just west of Sebago Lake. There was a parade, historical exhibit, barbecue, and block dance on Saturday. On Sunday, a formal program of speeches by prominent community members was followed by the release of green and white balloons, an ice cream social and birthday cake. It was a lot of fun.
Few people realize that Loammi Baldwin and Josiah Pierce (Count Rumford's half brother) formed a business partnership in what was then northern Massachusetts. Josiah ran the logging business for Loammi and later became its owner. This tract of land was named Baldwin after Loammi.
Loammi Baldwin constructed a home there similar to the Baldwin Mansion in North Woburn. The current Josiah Pierce, a direct descendant, gave us a most gracious tour of the beautiful estate that they still operate as a farm. Count Rumford's mother, Ruth Thompson Pierce, is buried there in the family burial ground.
- Betty Bigwood
---
The advertisement at left appeared as a two inch by two inch advertisement on the fourth and last page of the AMERICAN TRAVELLER, Boston MA, Tuesday morning, June 8, 1830, Vol. 5, No. 8. (Donated to the Middlesex Canal Museum and Visitor Center by John Ciriello)


Anchor stone of the floating towpath (foreground)
Middlesex Canal Museum and Visitors Center at Faulkner Mills (background)